A Local's Guide to St. John: Top 10 Things to Do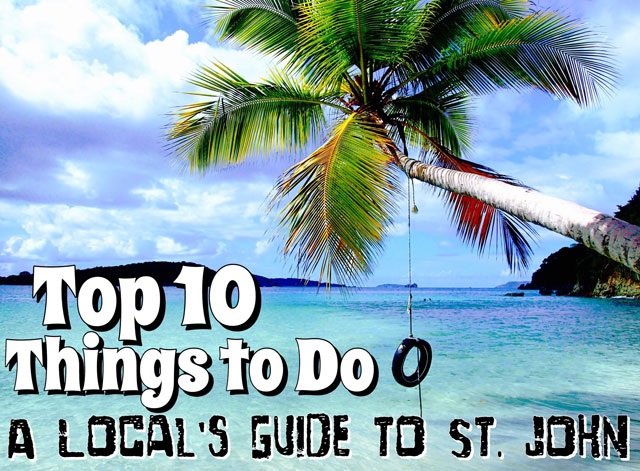 With its many picturesque scenes of Trunk Bay, National Park trails, Cruz Bay, and even the inhabiting donkeys, St. John is a paradise that is recognized around the world. The fact that in its popularity, St. John always remains seemingly untouched and secluded, all in just 19 square miles, is what makes it a rare gem. No matter where you are on the island, you feel like you've truly "escaped" and an island experience is just waiting to be had. And while fantastic unexpected encounters are part of the charm of St. John, you need a plan for your vacation to make the most of your time. So let my "top things to do" list be your guide to get you on the fastrack to planning your perfect paradise getaway!
Beaches- There's just something about the perfectly pristine beaches of St. John that earn them the reputation of being the best in the USVI! The National Park keeps the coral protected, the beaches maintained, and the facilities and amenities available so every day at the beach is perfection. Spend your perfect day in St. John at Honeymoon Beach with our exclusive package including all-day access to snorkeling gear, stand-up paddleboards, kayaks, beach chairs, relaxing, and of course, uninterrupted access to one of the most beautiful beaches in the National Park!
-Honeymoon Beach Watersports Package
Shopping- Duty and tax free shopping make the USVI one of the top Caribbean destinations for all you shoppers out there! Locally made goods such as one-of-a-kind jewelry, fresh spices, and unique home accents are the specialties of shopping in St. John, and the Cruz Bay area is scattered with little shops full of island treasures. Just a ferry hop away in St. Thomas you'll discover its specialty is in mega deals on name brand jewelry, watches, diamonds, precious stones, luxury items, liquor and more. Shoppers get your fill of tax and duty free deals on one of our St. Thomas shopping tours:
-St. Thomas Private Shopping Tour
Dining- People of all nations, cultures, and backgrounds are drawn to the pristine natural beauty of St. John and relaxed island life, so naturally the nomadic influence creates a uniquely delicious food culture of international and local fusions. Dining in St. John can be paired with a world-class view, entertaining local encounters, and/or a one-of-a-kind island cocktail concoction. Wherever you end up, dining in St. John is always an experience! From floating bars to 5-star chefs, discover the cuisines and dining atmospheres available in St. John with our local guides:
-Coral Bay Dining GuideCoral Bay Dining Guide
Sailing - I bet you never imagined you'd want to sail AWAY from St. John! Relax and take it all in on a barefoot sail to Jost Van Dyke or cruise around in USVI waters hittinog all the best snorkeling spots. It's hard to imagine that the scenery could get any more beautiful than the views from St. John, but set sail on the Caribbean Sea, take a look back at the islands, and discover for yourself why sailing excursions are among the top things to do!
Boat Rentals- If a powerboat ride across the Caribbean is more your speed, rent one for the day and choose your destination. Snorkeling spots? Secluded islands? A party barge? You name it! Island hop down the BVIs or hit all the top spots in the USVI. With so much to see and so little time on your vacation, a powerboat rental is the way to get the most adventure for you buck!
-32' Half-Day Powerboat Charter
-32' Full Day Powerboat Charter
-Private 35ft Boat Charter St. Thomas - Full Day
-44' Full Day Power Catamaran Charter
Island Hopping- If you find the right spot, you can be standing in St. John looking at the British Virgin Islands in one direction and St. Thomas in the other. With so many islands unique with their own attractions and cultures, it's no wonder why island hopping is such a popular thing to do! Take a quick ferry over for some sightseeing in St. Thomas, spend a day at one of the British Virgin Islands, or rent a boat and island hop away! Why settle for just one of the Virgin Islands when you can experience them all!
Snorkeling- Swim alongside swaying fan coral, schools of parrot fish, or even with a sea turtle or two! You're always bound to discover something incredible under the sea in St. John! The protected waters within the St. John National Park earn this island the reputation for the best snorkeling spots in the USVI full of thriving reefs and abundant marine life. Dive in and see for yourself what all the buzz is about with complimentary gear and the best hand-picked spots!
-Honeymoon Beach Watersports Package
-St. John Hike and Snorkel Tour
-Caneel Bay Kayak, Hike, and Snorkel Tour
-Henley Cay Kayak and Snorkel Tour
-Caneel Bay and Henley Cay Ecotour with Lunch
Kayaking- Whether you're an avid kayaker or just looking for a way to admire the crystal blue waters of St. John, kayaking can bring as much relaxation or adventure as you'd like! Hidden treasures are found just off the coast of St. John at its uninhabited little islands such as Henley Cay, and a kayak is your ticket to go exploring! Peaceful bays like Caneel offer a tranquil setting to just paddle around. Whatever your style, get out there and see St. John from the unique view of a kayak!
-Honeymoon Beach Watersports Package
-Caneel Bay Kayak, Hike, and Snorkel Tour
-Henley Cay Kayak and Snorkel Tour
-Caneel Bay and Henley Cay Ecotour with Lunch
Hiking- From petroglyphs and sugar mill ruins to breathtaking views and abundant flora and fauna, the hiking trails of the St. John National Park are one-of-a-kind. With over 20 trails to explore, there's something for every from the enthusiast to the leisurely stroller, so hit the trails, discover something new, and experience the natural beauty that is all around St. John!
-Caneel Bay Kayak, Hike, and Snorkel Tour
-Caneel Bay and Henley Cay Ecotour with Lunch
EcoTours- Did you know you could experience secluded natural wonders in St. John while also contributing to island preservation? We did! Ecotours explore exclusive destinations such as the uninhabited island of Henley Cay, hidden beaches, and the National Park Trails. Snorkel, kayak, hike, and get up close and personal with the gems of St. John all in their natural habitat!
-St. John Hike and Snorkel Tour
-Caneel Bay Kayak, Hike, and Snorkel Tour
-Henley Cay Kayak and Snorkel Tour
-Caneel Bay and Henley Cay Ecotour with Lunch
Whichever "things to do" you choose, you can't go wrong on the island of St. John! So get to booking those memorable excursions and prepare to have the paradise escape of your dreams on your vacation to St. John!
St. John Awaits!
Nishant